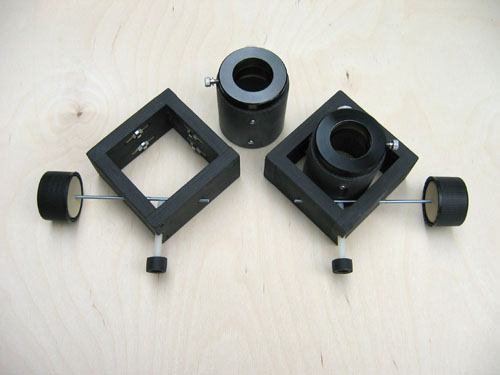 Drill the holes for the knitting needle so the knitting needle will be snug against the drawtube without flexing. Make the hole diameter fairly snug, too. Measure twice, drill once. If you mess up, you can turn the hole into a slot, but avoid widening the hole. A wide hole will let the knitting needle creep forward and back along with the drawtube when you focus, and you'll get a "rubbery" feel. This can be shimmed out with paper wrapped around the knitting needle where it goes through the hole, so it's not a big deal, but try for a snug fit if you can.

If you're not using heavy eyepieces, you probably don't need the nylon screws going up from the bottom, but I found the knitting needle to be just a little too flexible for the weight of a diagonal and an eyepiece. It was easy enough to drill a hole and tap threads for a 1/4" x 20 bolt, and the nylon bolt end against the smooth knitting needle adds no friction that I can feel to the focus action. It just forces the knitting needle against the drawtube and the drawtube against the bearings, totally eliminating any flex. The extra force will also help eliminate slippage when the focuser is pointed straight upward.

Since these focusers were going side-by-side on a binocular scope, I only put knobs on the outsides. Most people will want a knob on both sides. I used a hole saw to cut a wooden plug to fit inside the knob, and a drill press to make sure the hole for the knitting needle was straight so I wouldn't get a wobbly knob. But who cares, really? A wobbly knob still works, and adds character.

Make the drawtube longer than you think you'll need, just in case you need more focuser travel than you thought. When you figure out how much travel you actually need, you can cut the tube off so none of it sticks into your light path.

After you've done that, put a couple of tiny pan-head screws in the tube so they'll hit the knitting needle before your drawtube runs off the bearings. That way you won't be dropping your drawtube and eyepiece on the ground (or worse, on your primary mirror!) by cranking too far.